Workplace Accident Lawyers
More Than 40 Years of Experience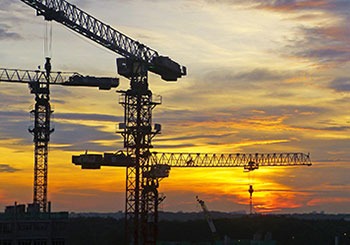 Injury, illness, or fatalities that occur in the workplace are all too common, and yet many accidents are preventable. Whether the accident is caused due to an OSHA violation, defective equipment, poorly maintained workspace, or the like, an injured employee has the right to seek compensation for harm suffered due to others' negligence.
While it is recognized that some fields, like construction or the oil industry, are associated with higher risk than others, each employee should be properly cautioned, equipped, and prepared to enter risky workplace conditions that come with the nature of their job.
We Know a Serious Accident Can Change Your Life
Serious injuries can cause permanent disability, require extensive medical treatments or surgeries, and hinder an employee from working. Our attorneys can help you receive the financial and emotional support you deserve so you can focus on healing.
The Fitzgerald Law Firm has more than 40 years of experience representing clients who have been involved in workplace accidents that resulted in significant disability and/or death. We have represented individuals who have been injured in Wyoming as well as claims located throughout the United States. When we take on a case, we strive to understand the unique challenges presented in each case. We answer our client's questions and make sure their legal rights are protected.
Worker's Safety Rights
There are a number of state and federal employment laws in effect that protect workers from accidents or harmful actions within their place of employment.
Employees are entitled to specific rights in regard to their safety at work. The United States Department of Labor Occupational Safety and Health Administration (OSHA) regulates safety guidelines and expectations for companies, provides workers with access to information, and a space to place a complaint against a business or report violations that have the potential to cause harm. Worker's safety rights also include:
Available training in a language that the employee understands
To be provided with all necessary safety equipment
Access to a reporting system for injury or illness
Ability to voice concern over unsafe working conditions without fear of retaliation
To work on machines that are safe
To be protected from toxic chemicals
Request an OSHA inspection, and speak to the inspector
Report an injury or illness, and get copies of your medical records
Review records of work-related injuries and illnesses
See results of tests taken to find workplace hazards
The Fitzgerald Law Firm represented a miner and his family when they sued the mine manager and safety manager for failing to fix dangerous environments that caused the miner to suffer brain injury and paralysis.
The jury awarded the family $22,000,000 – the largest verdict for physical injuries ever in the State of Wyoming. By law, the judgment came to $9,460,000, affirmed on appeal.
What is the Statute of Limitations for a Workplace Accident in Wyoming?
The statute of limitations is a specific time limit within which a plaintiff can file a claim. States govern these laws to maintain specific standards for filing and to protect defendants from wrongful claims. Workplace accident cases can potentially fall under different statutes depending on several factors, but many workplace incidents fall under personal injury or wrongful death.
If you are injured at work be sure to follow the proper and necessary channels to report the incident. Not only can personal and eyewitness statements become key points of reference for the conditions and events of the incident, but accurate reporting can also show if the employer has a history of previous or similar incidents.
In the State of Wyoming, an injured person has four years to file a personal injury claim against the defendant but not the employer. If the lawsuit involves a wrongful death claim, the plaintiff only has two years to file. Wyoming upholds a strict statute of limitations and cases that do not file within their deadline will be thrown out.
A workers' compensation action in Wyoming must be filed within one year from the date of receiving a medical diagnosis for the work-related injury or illness, and no later than three years from the date of the accident or exposure itself. By Workers' Compensation law, employers are immune from suit in Wyoming, but contact us anyway because we may be able to prove a co-employee caused your injuries, or a product was the cause.
There are exemptions and exceptions to these laws and statutes that can vary from one jurisdiction to another. It is extremely important to review your case details with an attorney who has an in-depth understanding of Wyoming workplace accident laws immediately after an accident has occurred to ensure that all deadlines are met in accordance with the law. The Fitzgerald Law Firm is equipped to handle the challenging nature of workplace accidents, and we will do everything in our power to ensure that your case is in good hands.
Common Workplace Accidents
According to OSHA, construction accidents account for about 20 percent of all recorded workplace accidents that include unsafe scaffolding, lack of personal protection, and falls. Across all industries, some of the most commonly cited incidents are related to:
Trips, Slips, and Falls
Whether from scaffolding, a ladder, or a crane, falls from high locations can cause serious injury to a person that often results in head or spine trauma, broken bones, or even death. Appropriate safety measures include the use of harnesses, proper training, and up-to-code equipment.
Vehicle-Related Accidents
Workers who operate vehicles throughout the day should be mindful of roadway hazards including inclement weather and negligent drivers, as well as the possibility of technical failures. Vehicle hazards are not unique to roadways – on-site vehicles such as forklifts, tractors, and cranes can be equally dangerous.
Fire
Risk factors include faulty gas lines, improperly stored combustible materials, or open flames.
Powered Haulage
Large mechanical equipment such as conveyor belts, automated equipment, industrial lifts, and cranes are extremely powerful and are commonly powered by hydraulics or electrical drive systems. While machines have safety shut-off features, there is always the possibility of becoming caught in moving equipment or injured by an equipment malfunction or design defect.
What Damages Can Be Recovered in a Workplace Accident Lawsuit?
Receivable damages in a workplace accident can vary greatly depending on the specifics of each case. Injuries caused by heavy machinery or falls from great heights can be severe and the resulting medical costs can be overwhelming. The individual or company, other than the employer, that is responsible for the negligence that led to an injury or death may be financially responsible for the damages incurred by the incident. Potential damages can include:
Disability and/or disfigurement
Pain and suffering
Emotional distress experienced as a result of the injuries and those reasonably probable to be experienced in the future
Loss of enjoyment of life and any loss of enjoyment of life reasonably probable to be experienced in the future
Loss of earnings and earning capacity
Medical expenses
Caretaking expenses
A person who is injured at work and does not allege any liability or negligence can be eligible for compensation through worker's compensation laws that cover medical costs, extended leave, and lost wages. This benefit is distributed through the employer's insurance and negates the employee's ability to sue. The Wyoming Department of Workforce Services details employee benefits and the steps to file a claim. Employees can seek legal counsel to assist them in the process and ensure all their coverage needs are met.
We are willing to review any injury or death case to determine if someone or a company other than the employer was at fault.
---
When Should I Contact an Attorney?
If you are searching for an attorney to assist with a workplace injury or death claim, we are here to help. Contact our firm today to schedule a consultation. We will assess your case and advise you on the best next steps towards healing.