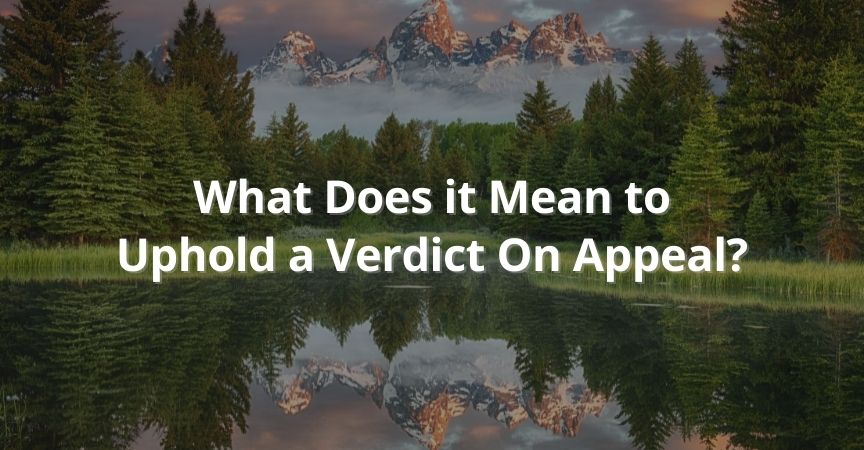 "The verdict was upheld on appeal." The company or person who injured you can appeal if you win. If the jury awards you money, this is what you want to hear
The Fitzgerald Law Firm holds the records for the largest verdicts for personal injury and wrongful death upheld on appeal in Wyoming history.
When you win, the loser can take your case to a higher court. That's called an appeal. Then the higher court can take away your victory, reduce it or uphold it. You want a lawyer well-suited to uphold your verdict.
Here's an example: You sue the ABC Company and win at trial. But ABC and its lawyers disagree with the verdict (the outcome at trial). They can appeal the decision. If they do, the case moves from a trial court to a higher court, called a Court of Appeals. Then that court reviews the evidence and rulings from the lower court and listens to the arguments by your lawyers and the defendant's lawyers. . If the higher court agrees with the jury's verdict and upholds the trial court's rulings, you win.
Cases get complex on appeal. Your lawyers must advocate for you all over again. We do that. We have a track record of successfully upheld verdicts.
Some folks fall for the advertising and boasting by lawyers who get substantial verdicts or say they do. But can they uphold those verdicts on appeal? To get an accurate answer, it is essential that you review the lawyer's record of winning or losing at each step along the way, including appeals.
Contact our Wyoming lawyers to work on your personal injury case.
While many lawyers try to settle cases outside of court because it requires less work on their part, we are not afraid to fully prepare and take our cases to trial.
Here's the story of a trial about a man who died due to a faulty design of his heavy equipment by the giant Caterpillar Tractor Company. The jury listened carefully to our evidence and reached a verdict in favor of his widow and children. Then Caterpillar appealed and the Wyoming Supreme Court upheld our verdict. The case is the largest wrongful death judgment upheld on appeal by the Wyoming Supreme Court. We also hold the record for the largest personal injury verdict upheld by that court.
At The Fitzgerald Law Firm, our team of Wyoming personal injury lawyers is ready to fight for maximum compensation for your case. Please give us a call at 307-634-4000 or fill out this online form for a free and confidential consultation.