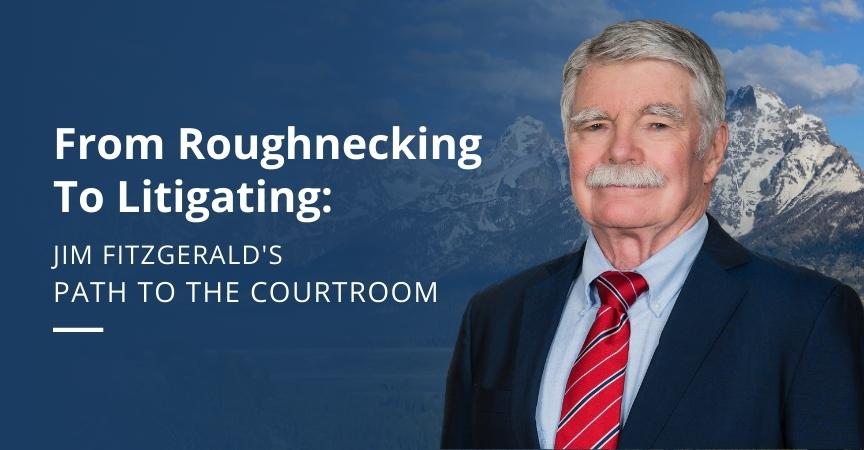 Jim Fitzgerald, founding partner of the Fitzgerald Law Firm, was interviewed by Lawdragon for their Hall of Fame Lawyer Limelight series. He shared his unconventional path to becoming a personal injury lawyer and the hard work and determination it took for him to get there.
Before the polished courtroom mahogany, recognition, and awards, renowned trial lawyer Jim Fitzgerald worked as a floor hand on an oil drilling rig in Wyoming, a rite of passage that inspired him to become the voice of workers who could not advocate for themselves.
"I liked to help people who were down and out – or on their way to being down and out if they didn't get some help."
To achieve his dream of attending college and law school, Jim worked multiple jobs to pay for tuition, books, and expenses. He worked as an oilfield "roughneck," in highway construction, and as a welder's assistant on a pipeline, sleeping after hours in a truck loaned to him by his boss. It was in these difficult and dangerous work environments that Jim saw the ramifications of personal injuries to workers.
"The law of product liability had not yet been developed back when I was 'roughnecking' on an oil rig. If somebody got hurt, worker's compensation provided the only remedy, which was a minimal remedy. It wasn't enough."
Jim gives the example of the derrick hand, the person who sits atop the oil rig and racks drill pipe for hours on end, ninety feet in the air. It's a dangerous job with unpredictable factors. The derrick hand had a wife and four children and lived in a tarpaper shack. Workers' compensation would not have been nearly enough to cover the basic needs of his family if he had been injured on the job due to negligence or malfunctioning equipment. As the law developed over time, it allowed injured workers to file a product liability lawsuit, if equipment failure causes injury or death. Employees covered by workers' compensation cannot sue their employers for carelessness or gross negligence. Product liability claims gave workers some protection. Now, product liability lawsuits are brought under claims of negligence, strict liability, or breach of warranty. In Wyoming, a worker who is injured by defective equipment is entitled to more than workers' compensation.
"I enjoy product liability cases because it's usually a matter of a corporation not using enough foresight to realize that there's going to be a problem with the product. Or they learn that their product is harming people and they don't do anything about it."
Jim recalls a fulfilling case at the start of his civil law career that allowed him to see the impact he could make on those needing an advocate and a voice. A friend was blinded in one eye by a defective product. Having made his livelihood working in construction, the friend's inability to work would severely impact his life. Jim took on the case against International Harvester, which is now Navistar, for the defective product that led to the accident; the jury found in favor of the worker.
Before beginning his practice, Jim attended Officer Candidate School and served in the Vietnam War. He founded the Fitzgerald Law Firm which gained a reputation for righting wrongs hard-working people face and representing those who do not have the resources to fight against large corporations and insurance companies. The firm's dedication to challenging cases has led to record-setting verdicts, including obtaining the largest verdict in an injury and wrongful death case ever upheld on appeal in the state of Wyoming.
Jim is joined in the practice by his son Michael and paralegals. They continue the Fitzgerald legacy of fighting for the rights of regular people by working with engineers, medical experts, and others to prepare cases and get justice for deserving people.