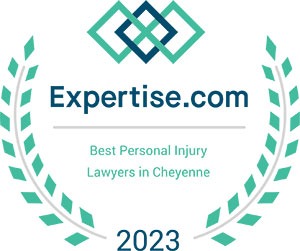 The Fitzgerald Law Firm has been recognized by Expertise.com in the 2023 list of Best Personal Injury Lawyers in Cheyenne, Wyoming.
Expertise reviewed over 60 personal injury law firms in Cheyenne and chose our personal injury attorneys as part of the top 19 based on more than 25 variables across five categories: reputation, credibility, experience, availability, and professionalism.
The Fitzgerald Law Firm was also listed in the 2023 9 Best Cheyenne Car Accident Lawyers list by Expertise.com.
The Fitzgerald Law Firm holds the record for the largest verdicts ever upheld on appeal in Wyoming for injuries and wrongful death. Our personal injury lawyers take cases involving injuries resulting from defective products, oilfield accidents, motor vehicle accidents and more. We also handle wrongful death and work accident cases, working towards fair compensation for both economic and non-economic damages. For over four decades, our Cheyenne, Wyoming personal injury law firm has delivered extraordinary results for clients all over the United States with our cornerstone belief: finding the truth and justice. Learn more about our firm here.