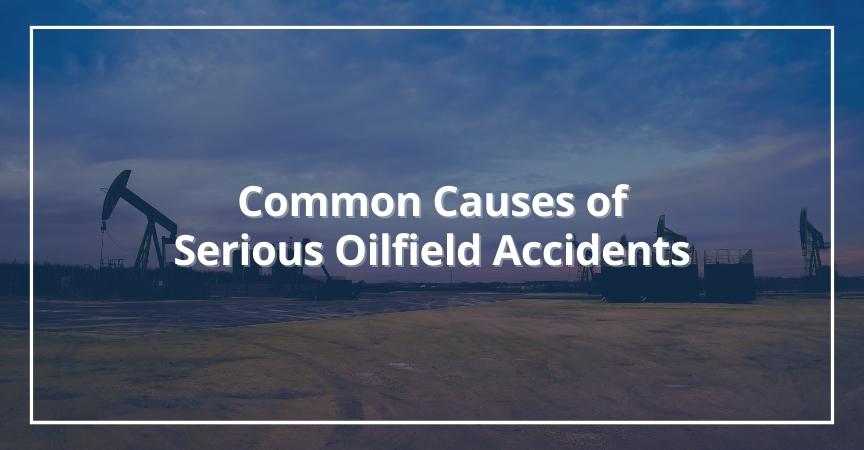 Serious oilfield accidents are often preventable yet, the numbers of accidents seen in the extraction industry across the United States remain high. In 2020, the U.S. Bureau of Labor Statistics (BLS) recorded over 81,000 accidents that led to injury or death across the industry, holding its place as one of the most dangerous occupations for workers in the United States.
Oilfield Accident Injury & Fatality Statistics
Over the last five years of available data, the oil and gas extraction industry has averaged about 76 fatalities per year according to reports from the BLS. The National Institute of Occupational Safety and Health (NIOSH) reports an annual average of 11 fatalities from oilfield explosions alone across previous years.
For decades, employee safety organizations such as NIOSH have worked with the U.S. Bureau of Labor Statistics to scrutinize the working conditions in oilfields, tracking the occurrences and causes of incidents that cause injury and fatality.
Common Causes of Oilfield Accidents
One of the major contributing factors to the danger of this industry is the volatile nature of the resources being extracted. However, science and engineering have developed methods for extracting natural resources that are reasonably safe with the use of proper equipment, personal protection, and extensive training. Records show oilfield accidents can typically be attributed to human error in the form of poor maintenance, unsafe drilling practices, or defective equipment.
Failure to Comply with Industry Safety Standards
The United States Department of Labor Occupational Safety and Health Administration (OSHA) regulates laws and ordinances that companies engaged with any aspect of extraction must follow. These regulations are in place for the safety of workers. Ignoring safety standards or cutting corners for productivity greatly increases the risks associated with catastrophic incidents and other life-threatening situations.
Inadequate Training
Oilfield operators and companies are legally responsible for ensuring that their workers are properly trained and protected. A poorly trained employee, worker, or supervisor can be a danger to everyone on the rig. Something as simple as a spark from welding equipment can potentially ignite a fire or explosion. Workers and supervisors must be familiar with all of the extraction processes and machinery they are using, in addition to knowing any risks and hazards before the job starts. An inexperienced or poorly trained crewmember or supervisor could be a liability to themselves and others.
Poorly Maintained or Faulty Equipment
The massive, high-speed machinery used for oil extraction requires frequent maintenance to ensure safe operation. Leaks, corrosion, and overuse can easily lead to equipment failure with dangerous repercussions that include chemical fires, gas leaks, pipeline explosions, or well blowouts.
Manufacturers are responsible for supplying high-quality products that are safe for use. From manufacturing or design flaws to damage during shipping, defects can have a significant impact on the safety of the equipment. In cases of faulty machinery, investigations are necessary to identify the product defect and which parties might be liable for damages.
Environmental Factors
There are a number of environmental factors that can impact the safety and health of an oilfield operation. OSHA  identifies extreme temperatures, highly combustible and harmful gases such as hydrogen sulfide, radioactive material, and exposure to silica are known hazards that can cause long-term health complications if not protected against. Companies are required to provide workers with personal protective equipment that can guard against natural hazards.
Common Accident Prevention
Careless mistakes or disregard for safety procedures and equipment on an oilfield can lead to serious events such as explosions, fires, and falls resulting in catastrophic injury or loss of life. Providing in-depth training, safety gear, and equipment maintenance are all simple ways to avoid dangerous mistakes. Ultimately, it is the responsibility of companies, facilities, and managers to ensure their workers are properly trained and outfitted to remain safe on the job, following federal guidelines and regulations. The same is true for vendors and others who go into the oil field.
Contact an Experienced Oilfield Accident Attorney
Jim Fitzgerald, founding partner of The Fitzgerald Law Firm in Wyoming, worked in the oilfields, gaining firsthand experience of the dangers of working in the industry and the importance of maintaining a safe work environment for every job role in the field.
When a serious oilfield accident does occur, the responsible parties should be held accountable. The Fitzgerald Law Firm has handled many cases of serious injury and death from preventable accidents in the oilfield. Our firm works tirelessly to help you and your family seek justice.
Contact the Fitzgerald Law Firm today to schedule a consultation of your case and learn more about the legal options available to you and your family.