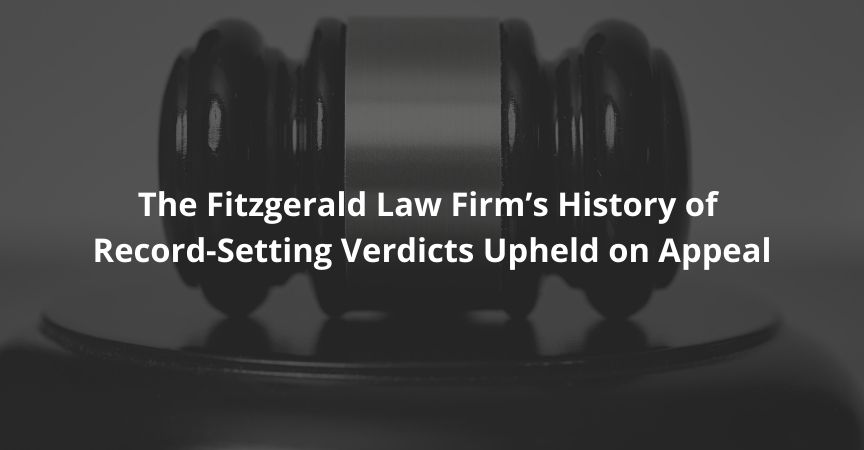 One of the things that sets The Fitzgerald Law Firm apart from others working in personal injury litigation is our proven track record of getting meaningful jury verdicts for our clients and keeping them on appeal. We have the largest verdicts for personal injury and for wrongful death that were upheld on appeal in Wyoming history. Getting a large verdict is one thing, upholding it on appeal is another. 
When individuals and their families suffer catastrophic injuries and wrongful death because of someone else's negligence, the consequences are devastating and life-altering. While no monetary verdict can ever completely heal the physical and emotional wounds created by such circumstances, it can bring much-needed compensation, financial relief, and a sense of justice to the victims. At The Fitzgerald Law Firm, we are committed to finding the truth and justice in every case we handle. 
Some of our record-breaking verdicts that we upheld on appeal include:
Guardian v. Hannifan: A $22 million verdict in 2008 for a miner who suffered a brain injury and paralysis from dangerous conditions in the mine. The mine manager and safety manager knew of these dangerous conditions and failed to fix them. The miner and his children sued. The jury awarded $22 million. Due to the law, the judgment came to $9,460,000.00, the largest personal injury judgment affirmed on appeal by the Wyoming Supreme Court.
Caterpillar Tractor Co. v. Donahue: The family of a man killed on the job was awarded $1.5 million. He was operating heavy equipment for a construction company and died when his Caterpillar 988B front-end loader — that weighed 80,000 pounds — rolled over and crushed him. Lack of rollover protection was a design defect. It remains the largest wrongful death judgment affirmed on appeal by the Wyoming Supreme Court.
Read more about our verdicts and settlements to find out about other cases.
Most lawyers primarily settle cases out of court. At The Fitzgerald Law Firm, we are not afraid to take our cases to trial. And as the above examples show, the skill, tactics and strategies of your lawyers are important because they must try cases that stand up on appeal.
If you have been injured or a loved one has been killed, please contact us today for a free case evaluation.