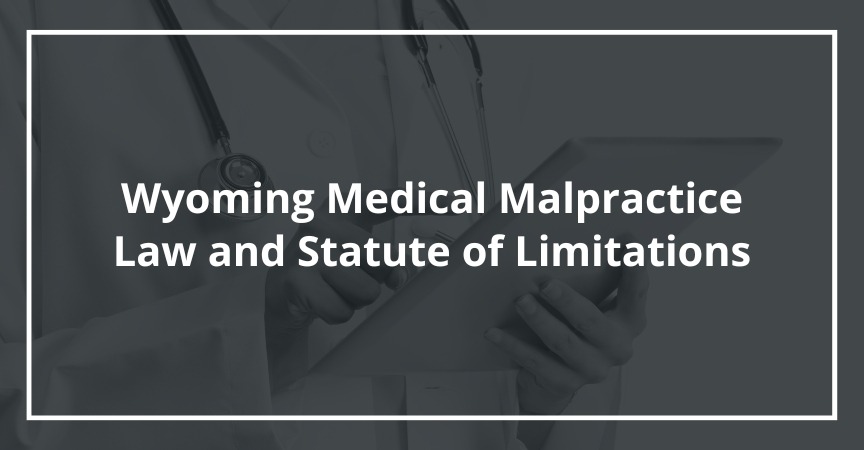 Wyoming medical malpractice cases are bound to a statute of limitations, a legal timeline, that defines when a patient can file a claim and pursue compensation for injuries sustained due to negligent healthcare providers.
Medical malpractice cases are among the most challenging cases to litigate. Complex evidentiary issues and documentation create unique challenges for this area of tort law. It is important to hire a knowledgeable and experienced medical malpractice attorney to help you navigate legal complications including time restrictions. The medical malpractice attorneys at the Fitzgerald Law Firm have decades of experience protecting the rights of victims and their families seeking financial reparations following an injury or death caused by negligent doctors, hospitals, pharmacies, and other healthcare providers. The Firm holds records for the largest injury and death cases ever won in the Wyoming Supreme Court.
Wyoming Medical Malpractice Statute of Limitations
Wyoming law states that in the case of medical malpractice, adults typically have two years from the date of the injury or the date of the initial discovery of the injury to file a claim. This means that a patient must file a lawsuit within two years or they may not be able to pursue damages. But if the malpractice comes to light (also known as "discovered") during the second year following the health care provider's carelessness, the patient's deadline can be longer. This does not mean that a case must be resolved within that window, only that it must be filed. The medical malpractice lawyers at the Fitzgerald Law Firm can discuss your situation and explain the options to proceed with your claim. Continue reading for additional information on specific Medical/Professional Malpractice Time Limits. Don't guess. Get legal advice.
Initial Discovery
Initial discovery refers to the moment the patient finds that malpractice has taken place. In most cases, discovery is immediate. For example, if a surgeon amputates a patient's wrong limb, the patient would know upon waking from surgery, and the initial discovery would be the date of the surgery. However, there are instances where an injury is delayed, such as in the case of an object left in the body or an eventual illness from being prescribed the wrong medication.
Under Wyoming law, the initial two-year statute can be extended if the condition or illness that resulted from malpractice was not reasonably discoverable within two years of treatment, or if the patient did not discover their condition within two years of treatment despite reasonable due diligence. In these instances, the statute of limitations would begin from the date of the discovery. Again, don't guess. Get legal advice.
Other Exceptions to the Wyoming Statute of Limitations
Minors – A separate statute and Wyoming Supreme Court law determine limitations for minors or children under 18. This area of Wyoming law is especially complicated. So do not delay in seeking legal advice.
Disabled Persons – If the plaintiff is not a minor and suffers from a disability, the statute of limitations may be extended. If the disability is removed, the statute of limitations becomes one year from the date of the disability removal.
How We Can Help
Many factors can complicate a medical malpractice lawsuit. It is vital to work with an experienced lawyer who will fight for your rights against insurance companies and large healthcare institutions. The Fitzgerald Law Firm has decades of experience handling complex medical malpractice cases involving wrongful death and serious injury.
Our award-winning firm has the financial resources to take any case to trial, no matter the size or wealth of the insurance company, corporation, business, government, individual, or law firm against us. We hold certifications from five boards including the National Board of Trial Advocacy, the American Board of Trial Advocates, and the American College of Board-Certified Attorneys.
The Fitzgerald Law Firm takes pride in our availability and communication. If we take your case, we will keep you informed of its progress and maintain an open line of communication.
Medical/Professional Malpractice Time Limits
While the general statute of limitations for a medical malpractice claim in Wyoming is two years, there are numerous exceptions that can complicate the timeline of your claim. Working with an experienced medical malpractice attorney is the best way to ensure your lawsuit is filed appropriately. To view the Wyoming medical malpractice statute in full, click here.
---
Contact Us
We invite you to contact our medical malpractice attorneys at the Fitzgerald Law Firm if you want our expert team to review your case. We do not charge for this service. Going forward, if we take your case, you never pay fees out-of-pocket. We get paid a percentage based on what we collect for you. Contact us today to schedule an honest assessment of your case, and to learn what legal options are available.