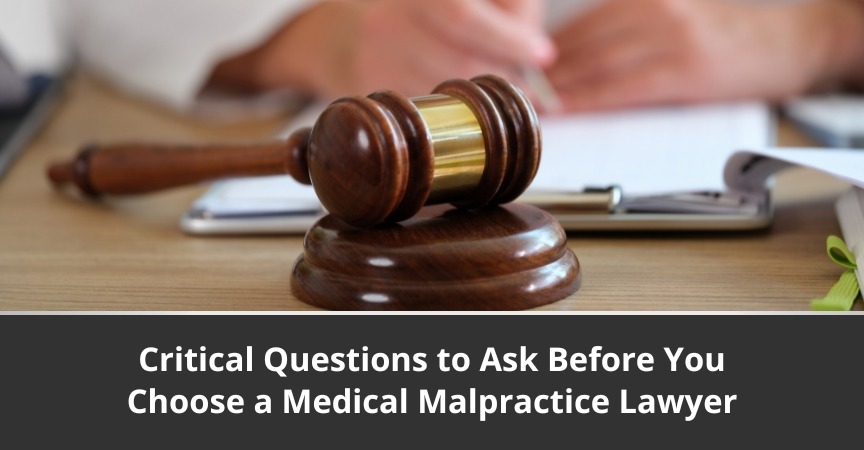 Hiring a lawyer while navigating the devastation of a medical malpractice injury or family death can be incredibly challenging. You may be asking yourself: Who can I trust? Who has experience in this area of medicine and law? How will I know? Will they have my best interests in mind?
At the Fitzgerald Law Firm, it is our mission to help individuals and families seek justice for negligent actions that have left them or a family member with a serious injury or that caused death. In order to maintain our high level of care and dedication to each of our clients, we take care and consideration regarding the cases we accept. We will always listen to your needs, share our perspectives, and advise you on the ideal next steps for your situation. Regardless of whether we can accept your case or not, we want to help you be as prepared as possible for legal action.
Continue reading to learn critical questions to ask before you choose a medical malpractice lawyer, and how the Fitzgerald Law Firm may be able to assist in your case. We are based in Cheyenne, Wyoming, and support clients throughout the United States.
Critical Questions to Ask Before You Choose a Medical Malpractice Lawyer
1. What kind of experience do you have handling my type of case?
Medical malpractice is a complex area of law that requires a deep understanding of legal proceedings, medical terminology, as well as exceptions and nuances in the law that apply on a case-by-case basis.
The Fitzgerald Law Firm has more than forty years of experience handling all forms of litigation surrounding serious injury and wrongful death stemming from medical malpractice. Many medical malpractice cases involve multiple negligent parties – doctors, nurses, hospitals, and manufacturers – and we are prepared to determine which individuals or organizations are at fault.
2. Can you verify your expertise by sharing some of your verdicts and settlement results?
The Fitzgerald Law Firm has a proven track record of excellence and success when representing clients in personal injury cases including medical malpractice and negligence due to our values and attention to detail. Our successes include trials against multinational manufacturers, Fortune 500 companies, government entities, and many other large organizations in Wyoming and across the country, as well as healthcare providers when they have caused serious, permanent, disabling injuries or death.
We hold the records for the largest injury and death cases ever upheld in the Wyoming Supreme Court.
3. Are you confident your firm has the financial resources for out-of-pocket and other costs to properly pursue the case?
The Fitzgerald Law Firm has the financial resources to take any case to trial, no matter the size or wealth of the insurance company, corporation, business, government, individual, or law firm against us.
A significant part of a medical malpractice case is the ability to present expert witnesses who can testify as to "the accepted standard of medical care" and demonstrate how the health care provider failed "to meet that acceptable standard of care." Our firm regularly collaborates with the top experts in the medical field to assist in presenting our cases.
4. What is your reputation among other attorneys?
Our attorneys have been elected by our peers to numerous invitation-only lawyer groups based on experience, results, and reputation including the American College of Trial Lawyers, the International Academy of Trial Lawyers, the International Society of Barristers, and the Inner Circle of Advocates, an organization limited to 100 of the top plaintiff lawyers in the country. In order for a lawyer to be admitted into these groups, they must be nominated anonymously – without their knowledge – by peers and recommended by judges. We are also recognized by America's Top 100 High Stakes Litigators®, which identifies the top 100 litigation attorneys in each state.
Other peer-nominated awards we have received include The Best Lawyers in America®, and Top 100: Mountain States Super Lawyers®.
5. What will your firm do to make me more comfortable and confident while working with you?
A distinct feature of the Fitzgerald Law Firm is the attentive care you will receive from our practice. We will keep you informed of your case's progress throughout the entire process and you will be able to contact your attorneys at any time.
6. Are you board-certified?
Board certification denotes the highest level of legal services within a specific area of law. In order to be board certified, an attorney must have a minimum of five years practicing within that area in order to fully demonstrate their knowledge, skills, and expertise. Board certification also requires testing and a peer review assessment that measures the attorney's character, ethics, and professionalism as demonstrated by their work.
The Fitzgerald Law Firm is certified by five boards including the American Board of Trial Advocates, the American College of Board Certified Attorneys, and we are triple board-certified in three fields by the National Board of Trial Advocacy.
---
The Importance of Choosing the Right Attorney for Your Medical Malpractice Case
Asking critical questions of attorneys can help you determine if the firm is right for your case. Aligning the firm's strengths and areas of expertise with the factors in your case will be essential to its overall success. Medical malpractice cases, especially, require a broad understanding of the law including prior cases, statutes, and exceptions that can impact the validity of your case.
The Fitzgerald Law Firm specializes in serious personal injury and wrongful death cases including those caused by medical malpractice and negligence. To learn more about our firm or to find out if our firm is right for your cases, contact us today.