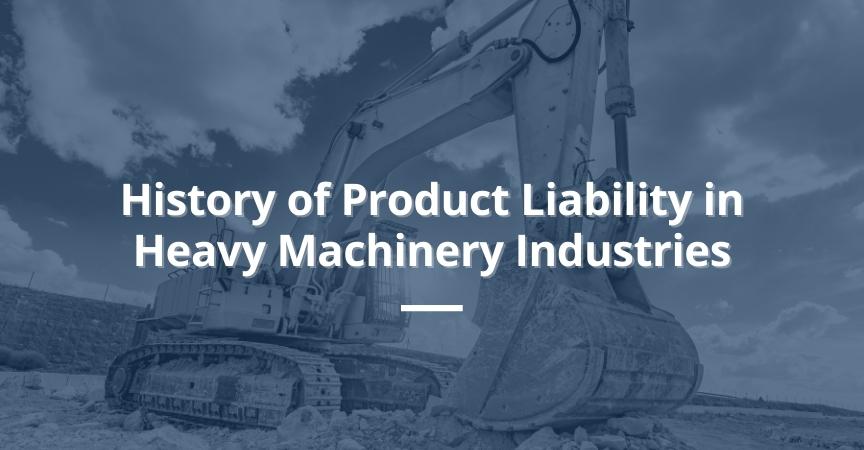 Manufacturers and distributors have a responsibility to provide consumers with safe products through careful testing, inspections, and warnings, yet every year dangerous products cause thousands of serious injuries and deaths across the United States.
The consumer sector with the highest number of injuries caused by defective products continues to be the construction industry. The United States Consumer Product Safety Commission (CPSC) details laws and regulations that manufacturers must follow in an effort to protect the public against unreasonable risks of injury associated with products. When companies or manufacturers act in negligence or skirt these rules, causing injury or death, they can be held responsible in court.
"Our firm strives to help laborers who are severely injured on the job due to defective products, inadequate supervision and training, or freefalling objects. By taking these cases we can help them seek justice and make a profound difference in their lives."
– Jim Fitzgerald, Founding Partner, Fitzgerald Law Firm
What is Product Liability?
Product liability is a type of tort law that was developed to hold companies responsible for producing safe products as well as protect victims of negligence in the name of corporate profit. A relatively new form of law, product liability was put into effect in 1965 in the Restatement of Torts. While different areas of law have existed for centuries, specific laws are constantly changing. Technology, the economy, community values, and legal expectations all impact the growth and development of the law in an effort to maintain a fair and just society. Industrialization was the catalyst for many changes to legal practice areas, including product liability, as heavy machinery and other materials and equipment became more widely used in production, construction, mining, and forestry among other industries.
Before the existence of product liability law, workers or individuals injured by a mechanical hazard had no legal protection against large corporations and their negligence. Reliance on meager worker's compensation did not cover the basics of a family if they suffered a major loss. Fitzgerald Law Firm's founding partner, Jim Fitzgerald grew up among oil rigs, construction, and other forms of manual labor that required heavy machinery, and he experienced firsthand the detriment of a failing judicial system in the area of product liability.
"When I was in college, I worked as a welder's assistant on a pipeline, I  did highway construction and I also 'roughnecked' on an oil rig, which is very dangerous and hard work. The law of product liability was not developed in those days. If somebody got hurt, worker's comp provided the only remedy, which was a minimal remedy."
– Jim Fitzgerald
Product Liability in the Construction Industry
Product liability law evolved from contract law under the guiding principle that a manufacturer could not be sued by someone with whom he had no contract agreement, even in cases of negligence. In the 1800s English courts were the first to doctrine caveat emptor, or "let the buyer beware," implicating reasonable responsibility on the part of the buyer.
The construction industry utilizes a significant amount of materials and equipment that can become part of a claim, breach of warranty, or impact damages in some way.
Despite increased laws and regulations placed on manufacturers and distributors adults and children continue to be put at risk by negligent companies. In 2021 alone the United States Consumer Products Safety Commission reported close to 20,000 injuries due to defective products across the US.
Heavy equipment commonly used in construction projects has some of the most frequent product liability claims. From machines malfunctioning and catching fire or tipping over, defects in these products can cause significant hazards for workers. It wasn't until the landmark 1963 California defective design case Greenman v. Yuba Power Products that courts established the basis for strict liability, setting the stage for liability on part of the manufacturer regardless of intent to harm.
Experienced Product Liability Lawyers
The construction industry hosts a number of legal complications when determining blame in multi-party cases. Working with an experienced product liability attorney is essential to the success of your case, especially when bringing a case against a large national or international company. The experienced Wyoming defective product lawyers at The Fitzgerald Law Firm can answer your questions during a free, confidential consultation.
The Fitzgerald Law Firm represented the family of a heavy equipment operator at a construction company who was killed when the Caterpillar 988B front-end loader he was operating — which weighed around 80,000 pounds — rolled over and crushed him. The crush was due to the machine's defective design. He left behind a widow and three young children. Jim Fitzgerald tried the case. The jury found in favor of the victim's widow and children. Caterpillar appealed and lost. It is still the largest wrongful death judgment ever upheld by the Wyoming Supreme Court.
If you or a loved one has been seriously injured due to a faulty or defective product it is important to contact an experienced attorney immediately. Each defective product case is unique and requires a detailed analysis of the product, an investigation into its manufacturing process, an evaluation of damages, and communications with aggressive insurance companies.
Contact us here and let us help you on your road toward justice.