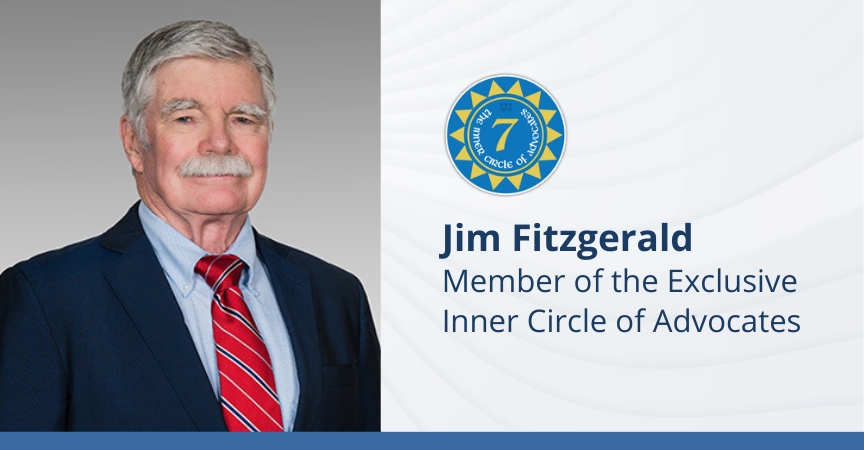 Recognized as a leading personal injury attorney in Wyoming and nationwide, Jim Fitzgerald has earned membership in a number of organizations, including the most exclusive trial lawyer organization in America – The Inner Circle of Advocates.
Limited to 100 top trial lawyers in the U.S., The Inner Circle of Advocates is the most coveted organization for trial lawyers who represent injured people and survivors. Jim's qualifications consist of decades of experience representing individuals in complex personal injury and wrongful death cases which have led to multiple record-setting verdicts including the largest verdict injury and death verdicts ever upheld on appeal in the Wyoming Supreme Court.
Jim is a member of other invitation-only trial lawyer organizations including the International Academy of Trial Lawyers (500 members total), the American College of Trial Lawyers (4000 members total) and the American Board of Trial Lawyers. He is also recognized by The National Trial Lawyers: Top 100, and America's Top 100 High Stakes Litigators®. He is board-certified in five specialties following testing and background checks by the American Board of Trial Advocates.
More about the Inner Circle of Advocates
The Inner Circle of Advocates was created to enable a group of talented plaintiffs' attorneys to pool their collective insight and promote excellence in civil trial practice. A lawyer cannot simply apply and join the Inner Circle. No one is invited to join without at least three trial verdicts exceeding $1 million or one verdict exceeding $10 million dollars.
Membership in The Inner Circle of Advocates is not just an honor, it is a commitment to participate in a unique laboratory of professional advancement, resulting in justice.
To identify top trial lawyers, the organization carefully evaluates an attorney's experience and standing in the legal community. The organization looks for lawyers in active practice who are willing to learn and educate others about their profession, and who wish to be part of a supportive group of colleagues who share ideas and experience.
To learn more about The Inner Circle of Advocates, click here. You can search for lawyers, read about their philanthropy, and learn about what the top 100 plaintiffs' lawyers across the country are accomplishing.
---
For over forty years, The Fitzgerald Law Firm has had the goal of seeking truth and justice for people and their families suffering from catastrophic injuries or incidents of wrongful death. The firm has become known for its successes in court, and a willingness to fight for justice from the initial case consultation through the appellate process.