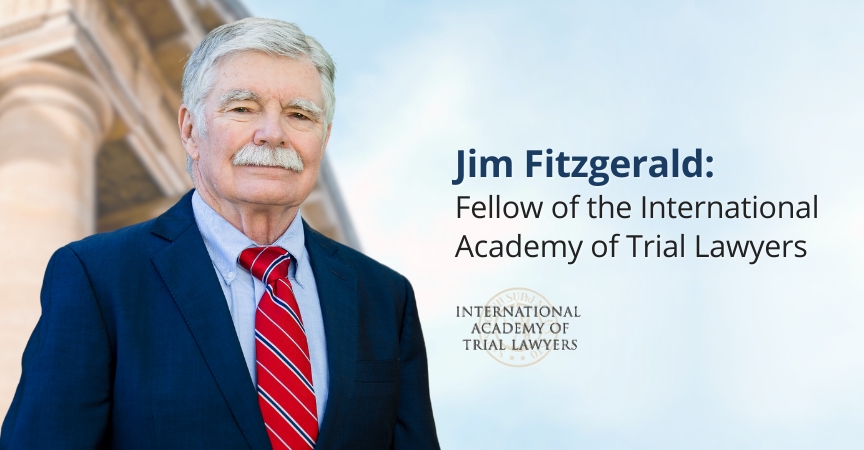 Jim Fitzgerald is well-known as a fair and honest attorney who protects the rights of those impacted by dire situations. He is known to take his own client calls and personally attends investigations.
Jim has earned national and international recognition for his record-setting results, receiving invitations to join several elite organizations including fellowship in the International Academy of Trial Lawyers.
The International Academy of Trial Lawyers is an invitation-only organization that seeks out members who have achieved a career of excellence as shown by their skills in trial, and as demonstrated by their integrity and professionalism. Trial lawyers become fellows only after an extremely rigorous vetting process, which includes both peer and judicial review, conducted without the candidate's knowledge. Jim's qualifications consist of decades of experience representing individuals in complex personal injury and wrongful death cases which have led to multiple record-setting verdicts including the largest verdict injury and death verdicts ever upheld on appeal in the Wyoming Supreme Court.
Jim is a member of other invitation-only trial lawyer organizations including the Inner Circle of Advocates (limited to 100 lawyers across the United States), the American College of Trial Lawyers (4000 members total), and the American Board of Trial Lawyers following testing. He is also recognized by The National Trial Lawyers: Top 100, and America's Top 100 High Stakes Litigators®. He is board-certified in five specialties following testing and background checks by the American Board of Trial Advocates.
More About the International Academy of Trial Lawyers
The Academy was founded in 1954 and is recognized as the most prestigious international organization of trial lawyers. The organization aims to promote reforms in the law, facilitate the administration of justice, cultivate the science of jurisprudence, promote the rule of law internationally, and elevate the standards of integrity, honor, and courtesy in the legal profession.
An international legal association both in spirit and membership, the Academy limits Fellowship to 500 active trial lawyers from the United States and includes over 150 Fellows from 40 countries across the globe. Members are often heavily involved in pro bono efforts and generously contribute time and resources to their local communities.
To learn more about the International Academy of Trial Lawyers, click here.
About the Fitzgerald Law Firm
For over forty years, The Fitzgerald Law Firm has had the goal of seeking truth and justice for people and their families suffering from catastrophic injuries or incidents of wrongful death. The firm has become known for its successes in court, and a willingness to fight for justice from the initial case consultation through the appellate process.
To learn more about Jim and The Fitzgerald Law Firm, click here.