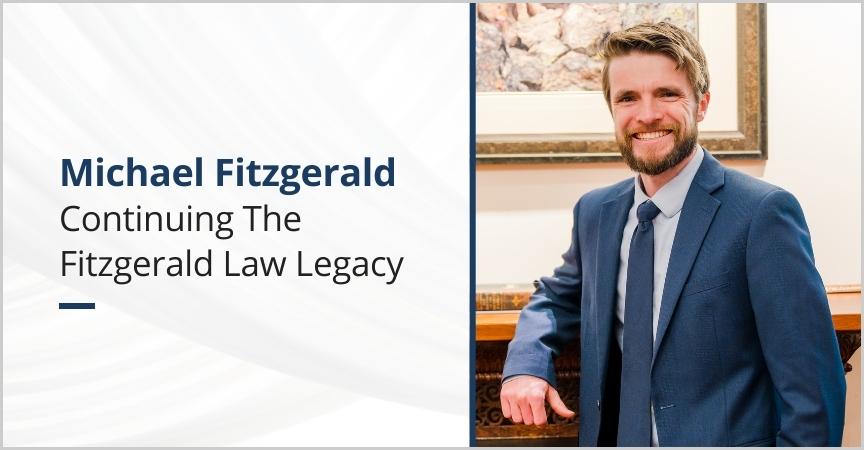 Immersed in a family of practicing lawyers, Michael Fitzgerald came of age attending legal conferences and engaging with experienced attorneys and community advocates. Since 2015, he has been a proud part of The Fitzgerald Law Firm team helping to bring peace and resolution to families and individuals affected by catastrophic accidents throughout Wyoming.
As a teenager, Michael remembers attending a law conference beside his parents which had a tremendous influence on his decision to become a lawyer. He found it fascinating to be among so many intelligent people, listening to them talk about important issues with the objective of righting the wrongs in the world.
While he went on to pursue undergraduate degrees in philosophy and history, Michael maintained a deep-rooted interest in legal work, ultimately attending the University of Wyoming to receive his J.D. Combined with a clerking position for the Honorable Alan B. Johnson in the United States District Court for the District of Wyoming, Michael applies the skills and strategies he learned throughout his writing and philosophy coursework in trial. As an attorney, he has found the ability to channel clients' words and express their experiences in court in a way that appeals to both the compassion of the jury and the logistics of the courtroom.
"I enjoy working through complex issues, putting them on paper, and convincing justices to see them from the perspective of our clients. I can't bring back a loved one or reverse paralysis, but I can and do help fight for justice, for the families and individuals wronged, and to help protect future generations."
–Michael Fitzgerald
Being a part of a family legacy law firm has its peaks and valleys and Michael is no stranger to hard work and the extensive hours that can be required when working on cases. For him, the joys of being a lawyer outweigh the frustrations and he enjoys working alongside his dad as their strengths complement each other greatly.
Michael learned much about practicing law from his dad and mentor, Jim Fitzgerald, founding partner of The Fitzgerald Law Firm, but what stands out the most to him is the desire to do good work for people who need help fighting for justice and truth.
"It is our goal to try to right wrongs as best we can. We often represent the little guy against the big corporations. As attorneys, we have the power to help hold wrongdoers accountable for their actions and answerable in court. I find it meaningful and fulfilling to step into that role in court and be the voice for the injured."
After forty years of serving the Wyoming community, The Fitzgerald Law Firm has built a reputation for reliability and results. The firm handles countless personal injury cases, focusing on challenging and catastrophic cases that require expertise, numerous resources, and a tenacious team of attorneys.
"Wyoming is a small place, and the cases we work on help us forge a relationship with our community. We get a lot of cases by word of mouth by letting our success speak for itself."
While the law is challenging work, Michael is inspired every day and enjoys being a part of an industry that requires him to be constantly learning. Working alongside his father, Jim Fitzgerald has been a tremendous experience that has granted him a number of learning opportunities and experiences.
"I love working with my dad; he has taught me so much but one of the biggest lessons he has imparted to me is to be actionable. He won't sit on his hands for a second but will find what he needs to do to get something done."
Michael looks forward to the future with The Fitzgerald Law Firm and continuing the family legacy of serving the community through leadership and quality legal representation for those who need it most.