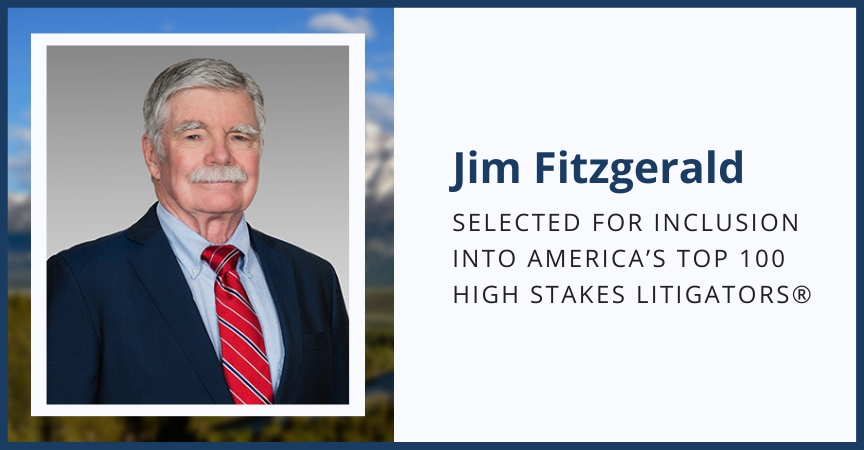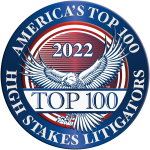 The Fitzgerald Law Firm is proud to announce the selection of founding partner Jim Fitzgerald to America's Top 100 High Stakes Litigators® for 2023. Selection to America's Top 100 High Stakes Litigators is by invitation only and is reserved to identify the nation's most exceptional trial attorneys in high-value, high-stakes legal matters.
Only the top 100 qualifying attorneys in each state will receive this prestigious honor and be selected for membership among America's Top 100 High Stakes Litigators. With these extremely high standards for selection, less than one-half percent (0.5%) of active attorneys in the United States will receive this honor — truly the most exclusive and elite level of attorneys in the community.
Having founded his firm on the premise of providing meaningful representation for those who need it most, Wyoming personal injury attorney Jim Fitzgerald is the epitome of hard work and skilled litigation. He aims to seek justice for victims of serious personal injury and wrongful death claims caused by the negligence and careless actions of individuals, large companies, and organizations who disregard basic safety precautions.
Jim is a member of several additional exclusive trial lawyer organizations including the American College of Trial Lawyers, the International Academy of Trial Lawyers, the International Society of Barristers, and the Inner Circle of Advocates, an organization with a limited membership of 100 of the top plaintiff lawyers in the country.
Jim's trial record includes numerous multi-million-dollar jury awards and several record-setting jury verdicts on behalf of his clients. He has been trial counsel in nearly half of the million-dollar verdicts in the history of Wyoming and holds the record for both the largest injury verdict and the largest wrongful death verdict ever upheld on appeal in Wyoming.
To learn more about Jim and The Fitzgerald Law Firm, click here.
Congratulations, Jim!