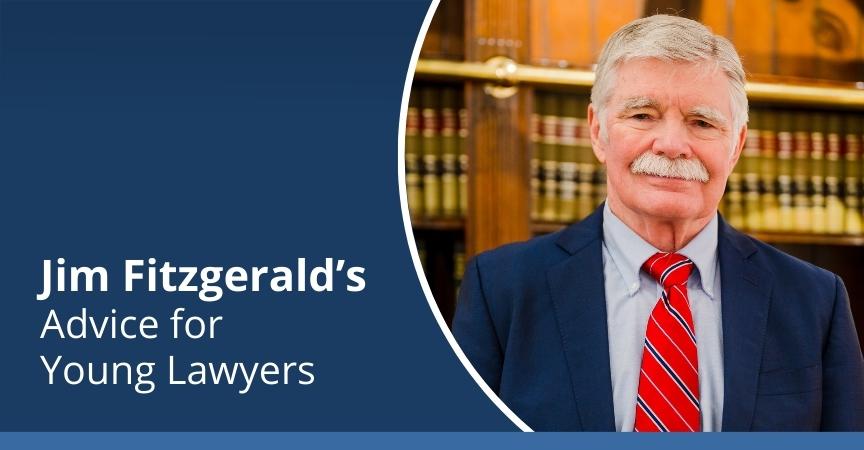 Jim Fitzgerald, founding partner of The Fitzgerald Law Firm, has had an unconventional path to becoming a personal injury lawyer. His early experience "roughnecking" as a floor hand on an oil drilling rig in Wyoming fueled not only his ability to pay his way through school but also stand witness to what happens when dedicated, hard-working people get injured or harmed on the job site. Jim quickly became a voice for the voiceless and a champion for many.
"I found it rewarding to help people who were down and out – or on their way to being down and out if they didn't get some help." – Jim Fitzgerald, founding partner, Fitzgerald Law Firm
This submersion into real-world circumstances granted Jim the opportunity to learn from unique experiences that impacted his perspective and road to legal success. His commitment to the profession has led him to be, among a myriad of other accolades, awarded as one of America's Top 100 High Stakes Litigators and inducted into the Lawdragon Hall of Fame. Jim has an avid interest in sharing career advice with lawyers who are just starting out. He counsels young lawyers to learn skills, work hard, and build relationships.
Learn the Profession. Build Your Experience.
"I think it's much harder to start out as a lawyer now and to build a practice, but if somebody wants to be a trial lawyer, the best way to learn how to do that is to try cases. If you're going to go out on your own and be able to put food on the table for families, you're going to have to learn how."
Jim started out his law career working on criminal cases. After several not-guilty verdicts in tough cases, good word got around, and Jim ended up spending his early career trying serious felony cases.
Soon after, a friend was blinded in one eye by a defective product. Jim took the case, knowing his friend's inability to work would severely impact his life. The jury found in favor of the worker, and Jim found his niche, launching the start of his civil law career.
"I take cases against manufacturers like tire and car makers because it's usually a matter of a corporation not using enough foresight to realize that there's going to be a problem with the product. Or they learn that their product is harming people and they don't do anything about it."
Jim started his law practice in 1975 and founded The Fitzgerald Law Firm in 1982. Since then, the firm has had a proven track record of getting meaningful jury verdicts for clients and keeping them on appeal. Compared to many lawyers who settle out of court, Jim is not afraid to take on tough cases or to take those cases to trial.
Hard Work Leads to Referrals
These referrals come in from working folks and others, including lawyers who want help with their cases.
Jim knows that people are out there putting their lives on the line every day at work, dedicating their lives, their time, and their energy toward financial stability, and the path to a better life for their families.
The same goes for building a law career. Putting in the time and dedication leads to more experiences, thicker skin, and skill sets as you learn, and it builds foundational relationships that carry on throughout your career.
"One of my pet peeves is lawyer advertising. Anybody can walk out of law school and put an ad in the Yellow Pages saying that they do product liability and wrongful death cases and so forth. I just think that is misleading and too often results in clients whose lawyers are not the best for the cases."
Jim considers himself privileged and lucky to do the work he does. Plaintiffs' lawyers have the responsibility to protect the interests and livelihoods of the families they serve. In this line of work, dedication, hard work, and compassion are essential.
Get Involved
Jim is a member of several prestigious, invitation-only trial bar associations including the Inner Circle of Advocates and the International Academy of Trial Lawyers. He is also a member of the American College of Trial Lawyers, and the American Board of Trial Advocates.
It took time and good results to get there. The Fitzgerald Law Firm holds the records for the largest judgments ever upheld by the Wyoming Supreme court in cases of personal injury and wrongful death.
"What I like about the Inner Circle of Advocates is, for one, you cannot apply to join. Membership is by invitation only. Potential members are heavily screened. Membership is limited to 100 lawyers around the country, and the meetings are very instructive. It's wonderful to have that resource to learn from and to share ideas."
The Fitzgerald Legacy
Developing a career takes dedication and an eagerness to help those who need help the most. Put your heart into it.  Word travels fast, in both directions. When you're putting in the hard work on cases, and getting justice, people will notice.
"We at The Fitzgerald Law Firm are privileged to do this work."