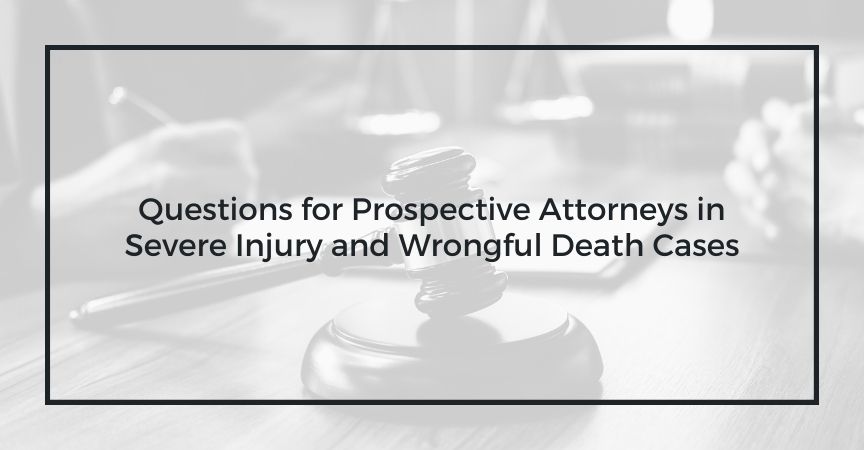 When individuals and their families suffer catastrophic injuries and wrongful death because of someone else's negligence, the consequences are devastating and life-altering.
At The Fitzgerald Law Firm, we are committed to finding the truth and justice in every case we handle.
For severe and catastrophic injuries as well as cases of wrongful death, here are some questions to ask every attorney you call a meeting with:
1. How many times, if ever, have you gone to trial in a case like mine?
There are two reasons for this question. The first is simply that when a case goes to trial you want it in the hands of someone who knows this process. The second is that when insurance companies evaluate a case, they will examine whether your attorney really is a trial lawyer (not one who just claims to be). Insurance companies rate lawyers on whether they have trial experience as well as what their win/loss record is. Good trial records drive higher settlements.
2. How many million-plus-dollar verdicts have you had?
This question relates back to the attorney having adequate experience. If the defendant decides to take your case to trial, you will want to be working with someone who has tried cases before with positive results. Also, remember that a verdict and a settlement are two different things.
3. Do you have the financial resources to best represent my case?
It can take hundreds of thousands of dollars, if not more, to prepare a case against a major product manufacturer, hospital, trucking company, or mining company. Your lawyer must hire specialists in these areas, and they typically charge by the hour. It costs money to travel to witnesses' locations for depositions, to prepare illustrations for trial, and present experts at trial. Not all lawyers can pay for all of this. The defendant in your case is likely to hire lots of expert witnesses; you need a lawyer who can do the same. Many firms, including The Fitzgerald Law Firm, pay for the costs of your case upfront. You will want to be sure the lawyer you go with has the resources to start and finish your case, and that those are put towards making sure the case is fully prepared.
4. Does your law firm have any awards or recognitions?
Top lawyers are frequently recognized in lists, such as Super Lawyers and Best Lawyers and win other accolades, both local and national. An attorney's profile on their website should list such accomplishments, along with their participation on boards of community organizations and pro-bono activities. It's an extra plus if the attorney has won an award for multiple years in a row. The Fitzgerald Law Firm has the highest Martindale-Hubble rating possible. In addition, the firm is listed in Martindale-Hubble's registry of Preeminent Lawyers, which relatively few firms attain.
5. Do You Have a Reputation for Taking Cases to Trial?
Most lawyers primarily settle cases out of court. At The Fitzgerald Law Firm, we are not afraid to take our cases to trial, and our cases are generally upheld on appeal. Getting a large verdict is one thing, upholding it on appeal is another.
We have the largest verdicts for personal injury and for wrongful death that were upheld on appeal in Wyoming history. 
The Fitzgerald Firm has upheld $9,460,000 on appeal – the largest personal injury judgment affirmed on appeal – for a miner who suffered a brain injury and paralysis from dangerous conditions in the mine. As well as $1.8 million for the family of a man killed on the job which is the largest wrongful death judgment affirmed on appeal, both by the Wyoming Supreme Court.
Jim Fitzgerald founded The Fitzgerald Law Firm with the cornerstone belief of finding the truth and justice. For over 40 years, The Fitzgerald Law Firm, based in Cheyenne, Wyoming, has delivered extraordinary results for clients all over the United States and has been recognized yearly by prestigious organizations and peers.
Jim is a member of several highly valued, invitation-only trial bar associations. He is one of 36 attorneys in the nation to be a member in each of the Inner Circle of Advocates, the International Academy of Trial Lawyers, the American College of Trial Lawyers, and the American Board of Trial Advocates.
He is triple-board certified by the National Board of Trial Advocacy in Civil Trial, Civil Practice Advocacy and Truck Accident Law – proving his skill and expertise through rigorous examination and testing. He is also a member of national professional organizations dedicated to board-certified attorneys, such as the American Board of Trial Advocates and the American College of Board Certified Attorneys.
Jim's trial record includes numerous multimillion-dollar jury awards and several records for jury verdicts and settlements on behalf of his clients. Jim has been trial counsel in nearly half of the million-dollar verdicts in the history of Wyoming.
When you bring your severe injury or wrongful death case to The Fitzgerald Law Firm, you can rest assured knowing that your case will be handled by highly experienced, recognized and successful lawyers. You are welcome to contact us today for a free case evaluation.