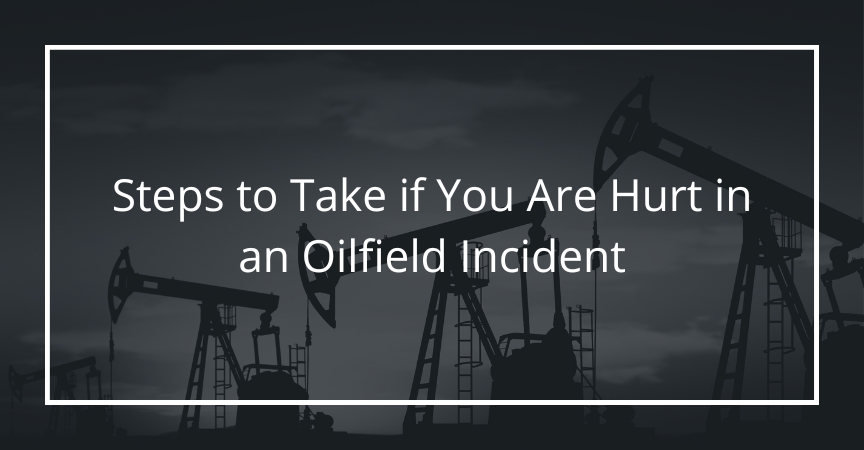 Working in a Wyoming oilfield is a grueling job. Jim Fitzgerald knows. He roughnecked when he was in college to pay his way. At the mercy of the elements and dangerous conditions, it is crucial that workers, site supervisors, and managers maintain a culture of safety and follow federal and state regulations to minimize workplace accidents.
Natural hazards, massive machinery, negligent site management, wet surface areas, and lack of proper gear and training are common causes of oilfield accidents. If you are hurt while working in a Wyoming oilfield, it is important to know the steps to take to ensure your needs are met and to receive fair compensation if you or a loved one is injured.
Follow Regulations & Protocols
Oilfields are known for their volatility and unpredictability due to the nature of the pressurized materials being harvested. Dangerous situations such as fires and explosions are always a possibility. In the event of a catastrophic event follow the protocols for safety and evacuation your site has in place to minimize additional hazards or injuries. Employers should be notified immediately of any incidents, accidents, or injuries.
Seek Medical Attention
If you are injured on the job, seek medical treatment immediately. Many oilfield accidents can result in internal injuries that may not be noticeable right away including damage to organs and internal bleeding. Medical care will provide you with proper treatment as well as documentation of your injuries, an important piece of a potential lawsuit.
Document the Accident
Create your own written account of what occurred, what led up to the accident, and anything you remember about the location, environment, and others involved. Document the names and contact information of witnesses and include photos if you can of the scene as well as your injuries. Detailed information and accounts will help build a comprehensive understanding of what occurred.
Contact an Experienced Personal Injury Attorney
To ensure that your rights are protected, hire a personal injury attorney with specific experience handling oilfield accident cases, conducting thorough investigations, negotiating against oilfield companies and large insurance companies and filing a lawsuit if necessary.
In addition to site negligence, oilfield accidents can involve multiple companies, defective machinery, or other third parties. An attorney can help you navigate these complexities to choose the best path for your physical and financial recovery.
The Wyoming personal injury attorneys at The Fitzgerald Law Firm have handled many cases of catastrophic injury and death in the oil field. While the causes of these accidents can range from explosions and fires, poorly maintained equipment, or a lack of training and supervision, our firm works hard to hold those responsible accountable for their negligence.
The firm's founding partner, Jim Fitzgerald, is not only an experienced oilfield accident attorney, but he also gained important, ground-level knowledge while working his way through college.  He also worked on pipelines and in other industrial jobs. Jim understands the dangers of working in the industry and the importance of maintaining a safe work environment.
Contact The Fitzgerald Law Firm today to discuss the elements of your case and take the next steps toward justice.