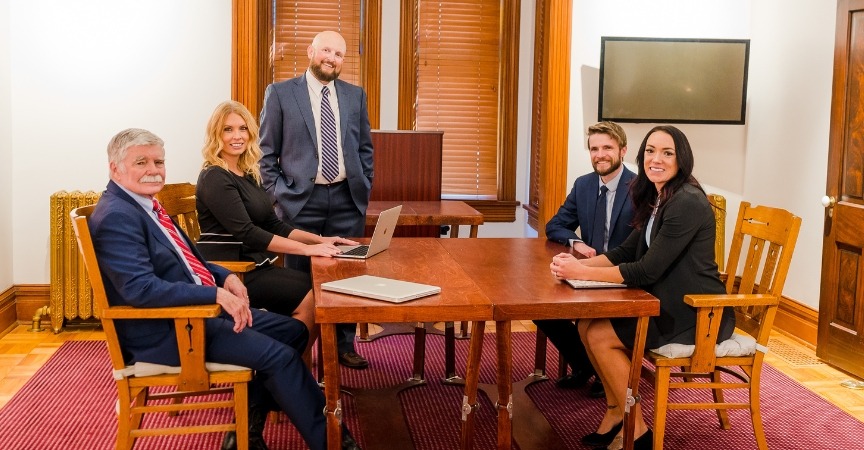 If you or a loved one are seriously injured due to the negligence of someone else, you may need to hire a personal injury attorney. If you find yourself wondering what a personal injury attorney does and why their service is beneficial, keep reading.
Most people know if they are hurt in a car accident or a slip and fall incident, a personal injury attorney might handle their case. Personal injury attorneys can help individuals and families handle a large variety of serious injury cases and are instrumental in securing a favorable outcome in a lawsuit.
The Fitzgerald Law Firm is recognized nationally as one of Wyoming's top personal injury firms, known for expertly managing cases involving catastrophic injuries and wrongful death caused by truck accidents, medical negligence, and workplace accidents, among others. If you have been hurt by another party's negligence or recklessness, we urge you to seek guidance from our team of experienced attorneys. 
Our firm takes pride in prioritizing each client as if they were family. Continue reading to learn how a highly qualified personal injury attorney can help you navigate even the most complex injury cases.
What Does a Personal Injury Attorney Do?
Protect Your Rights
When you hire a personal injury lawyer in the aftermath of a serious accident, they become your advocate and your advisor so you can concentrate on your recovery. Our team will navigate hospital bill collectors, insurance claims, and union officials, and speak with authorities on matters surrounding your accident, always advocating for your rights and protecting your interests.
While you may believe you can handle these matters on your own, prioritizing your recovery will be key to your overall well-being. Recovery after an accident can be a whirlwind of emotions, legalities, and phone calls from pushy insurance adjusters. Your personal injury attorney will manage your needs on your behalf while guarding your rights.
Negotiate with Insurance Companies
If you are injured in a car accident, on someone else's property, or are involved in an accident at work, the liability insurance of the other driver, property owner, or corporation will typically request a recorded statement. A personal injury attorney can help you navigate these tricky calls to decline a statement, coach your approach, or create opportunities to request specific needs. Your attorney can speak to insurance adjusters on your behalf throughout the entire span of your case.
Formally notifying an insurance company of legal representation will send a message that you are protected and are seeking justice. Lawyers with high trial records drive higher settlements. When a claim is evaluated by an insurance company, they take into consideration the quality of the attorney they will be up against. Insurance companies consider a lawyer's trial experience and their win/loss record as they weigh the options of a settlement or trial.
The Fitzgerald Law Firm has extensive trial experience and is well known as a firm that will stand up to large corporations in order to protect the rights of their clients and help hold parties accountable for negligence. Our firm has won trials against multinational manufacturers, Fortune 500 companies, governments, and many other large public and private entities in order to protect the rights of everyday people. 
Document and File A Claim
Meeting with an experienced personal injury attorney can help you understand the logistics of your claim and provide you with step-by-step guidance throughout the process. The Fitzgerald Law Firm takes pride in our availability and communication. If we take your case, we will keep you informed of its progress and maintain an open line of communication from the initial case assessment through the result.
There are many stages to a personal injury lawsuit and numerous considerations before you can even file. Your attorney will help you understand various deadlines, or statutes of limitations. They will investigate your accident, and obtain photographs, medical records, police or employer records, and reports to best understand and build your case. They may hire and consult expert witnesses who can provide further information about specific details, such as in a medical malpractice claim.
It is important to note that simply because you were injured in an accident, does not mean you have a viable case that can be taken to settlement negotiations or court. If The Fitzgerald Law Firm is unable to provide legal counsel for your case, we do our best to refer you to a firm that can.
Go To Trial
The Fitzgerald Law Firm regularly takes cases to trial, if necessary, to achieve the result the victims deserve, rather than simply settling out of court. The firm has the resources to not only bring cases to trial but to uphold verdicts on appeal, the true test of a trial attorney. Our firm takes on cases when the stakes are too high for other firms, and has built a reputation as a determined and skilled trial team.
Our case results include multiple record-setting verdicts, and we hold the record for the largest verdicts for personal injury and wrongful death ever upheld on appeal in Wyoming history.
Types of Personal Injury Cases We Handle
Personal Injury Lawsuits are not limited to traffic or slip-and-fall accidents. The majority of our practice represents individuals who have been severely injured, burned, paralyzed, suffered brain damage, or whose loved ones have been injured or killed by careless conduct of manufacturers, companies, health care providers, sellers, and others. While the firm is based in Wyoming, our team is recognized as an industry leader across the United States.
Need to Speak to a Personal Injury Attorney?
The Fitzgerald Law Firm has more than forty years of experience handling all forms of litigation surrounding serious injury and wrongful death cases stemming from personal injury accidents. Do not hesitate to reach out to our firm if you or a family member have been injured due to the negligence, carelessness, or reckless act of another.
Contact us today to schedule an honest assessment of your case, and to learn what legal options are available.
We have more personal injury frequently asked questions on our website as well.